Grassland life and death
In less than a month, a young man in China experienced a different life from the city. He has encountered sandstorms, hail, and power outages and knows dozens of wild animals. The most tragic thing for him was the death of raptors on the grassland.
A young man has been wandering the Jiatang grassland for the past month. He drives a white SUV, at a speed of 10 kilometres per hour or less, along the road on the edge of the grassland.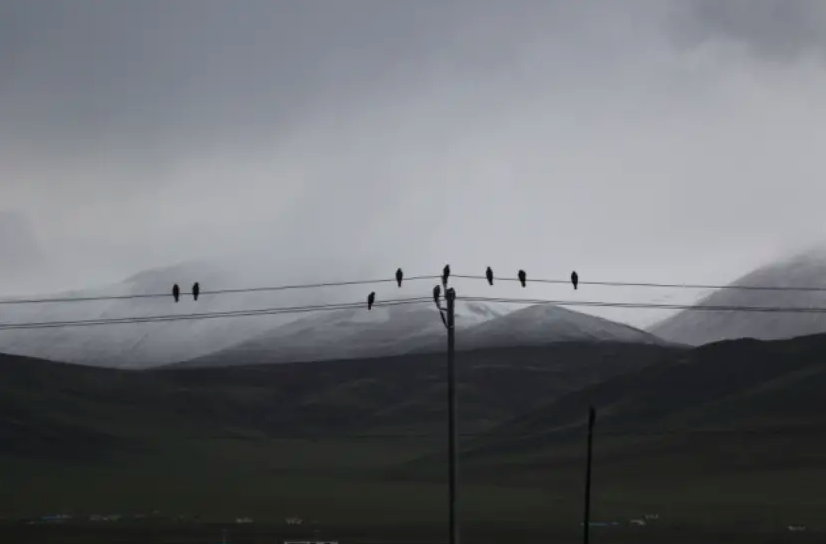 Two months ago, a recruitment advertisement appeared" "Qing-Tibet Plateau with a monthly salary of 10,000 yuan to recruit a person responsible for "counting birds; the job content includes: counting birds, birds, birds, birds, and birds, the coolest job in 2023", aroused interest in social media.
Among more than 50 candidates, Chang Le was selected. From then on, he had a new identity – 'the birdman on the grassland'. "(While working) I am a part-time graduate student in anthropology and am currently awaiting graduation. I should have graduated in July last year, but since I had yet to finish my thesis, I was not in a hurry to graduate, so I decided to give myself more time to write my thesis.
On 22 May, I drove an SUV I rented from Chengdu to Jiatang Grassland. Located in Qinghai Province. It is one of the most extensive grasslands in Yushu, with an average altitude of 4,200 meters. When I arrived, it was 24 May. The warm and humid airflow had not yet reached the Jiatang grassland, so the park was bare and yellow, and the grass had not yet grown. This was my first time in Qinghai. I could drive slowly from low altitude to high altitude. My body had enough time to adapt, with no altitude sickness.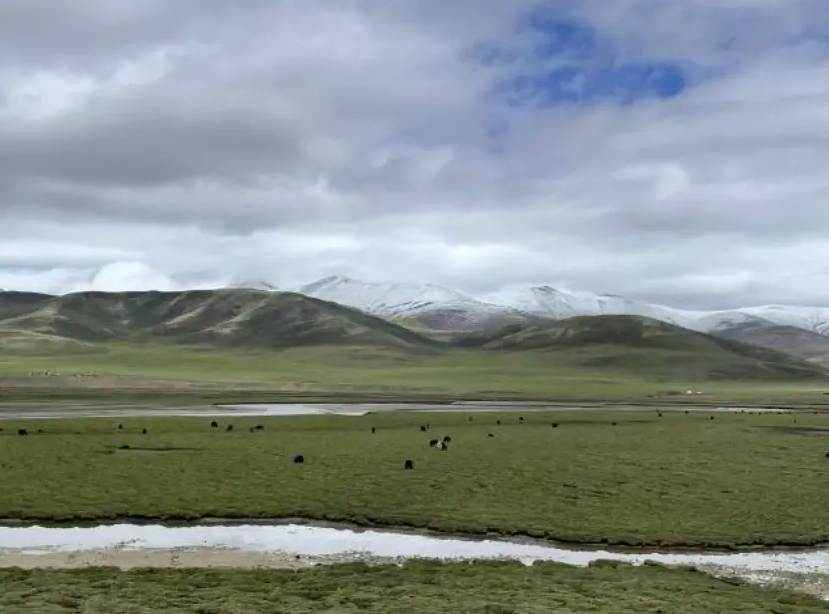 My Tibetan landlord is an amateur photographer. He knows where rare wild animals are on the grassland and where there are wolf and fox burrows. He doesn't understand Mandarin, and I don't know Tibetan, but we can still communicate.
According to the job description, I must record the types and number of wild animals, especially birds, I see each day and take photos or videos to post on the social account "Jiatang Counting Birds".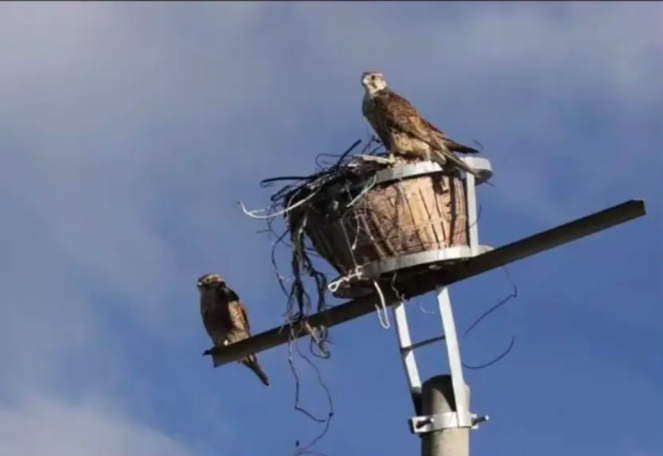 I drove slowly on a small highway every day for four to seven or eight hours. Although the work of counting birds is not romantic, there are also many surprises. After driving to the grassland, plateau rabbits can be seen scuttling between their rabbit holes and the surface. And the Tibetan fox strolls on the grass, bowing its head occasionally to investigate the burrows. Sometimes, a large group of Tibetan antelopes suddenly appear in your field of vision.
Or, you will encounter a large group of alpine gulls, the largest raptors on the grassland, with a two- or three-meter-long wingspan. This is quite rare.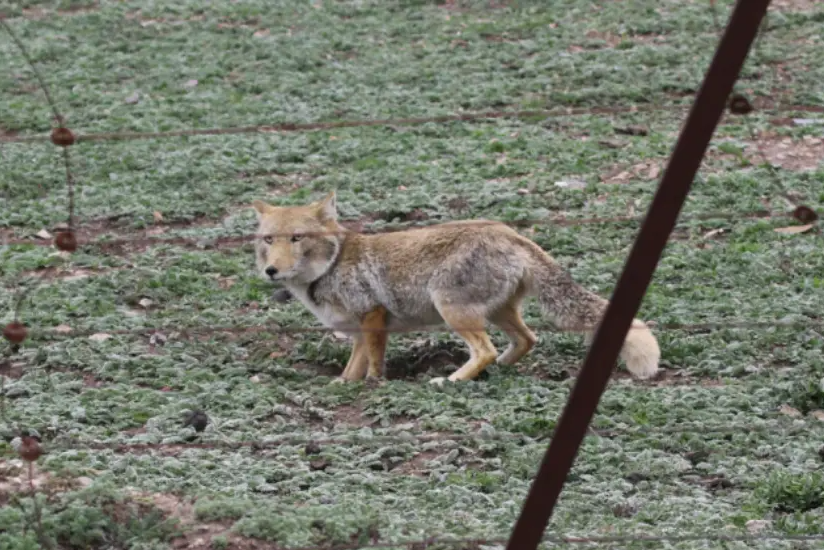 Once, I saw a falcon making a harsh noise when driving a dog. Because the falcon built a nest on the bridge, the dog wanted to pass the bridge, and the falcon flew over to catch the dog. The dog was terrified and swam straight through the river.
On the grassland, there is nothing more attractive than raptors. They fly over the park occasionally and have a wide range. I have checked and know that they can fly over the Himalayas.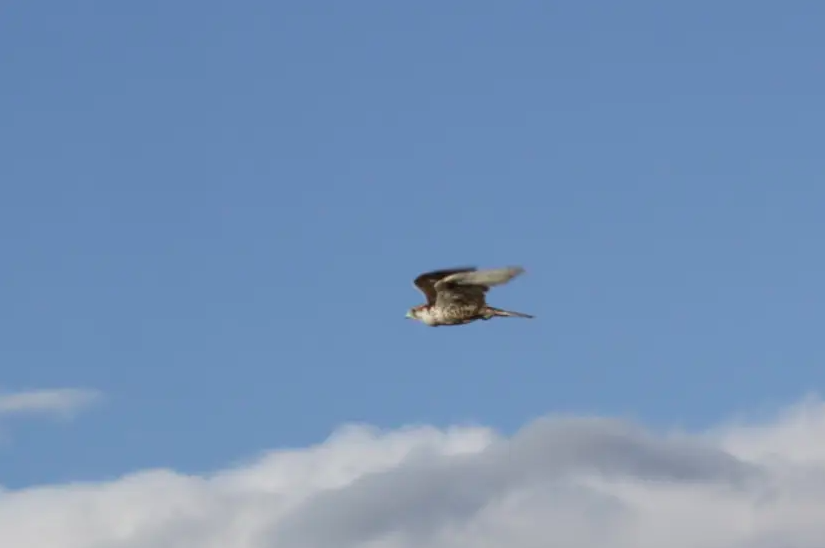 The weather in the high mountains and grasslands is changeable, and the weather forecast is not helpful. Maybe there are still a blue sky and white clouds close by, but the next moment there will be a strong wind, heavy rain and even sandstorms. At night, it may snow again. In addition, there is often local rain on the grassland, and sometimes there are blue sky and white clouds on the left side of the sky, but heavy rain on the dark clouds on the right side.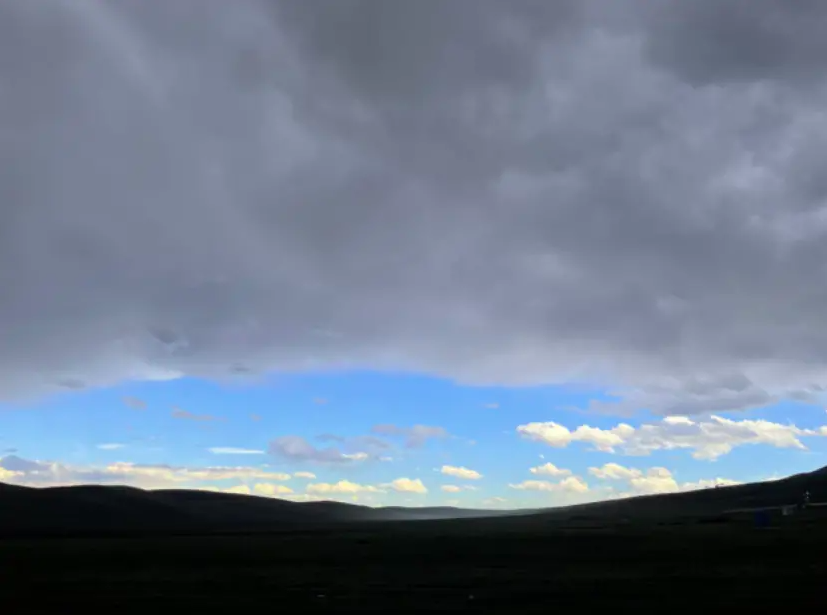 The grassland is extremely quiet. In addition to the wind, all kinds of birds can be heard almost daily. When I see a bird, I will record it on my mobile phone. The sounds of small finches are the most common on the grassland, chirping. There is a kind of sparrow called the horned lark, which is unique and gentle. You can always hear the crows. The calls of all types of raptors are also different, but I remember that the calls of raptors are very sharp and harsh and can be heard dozens of meters apart.
Tibetan antelopes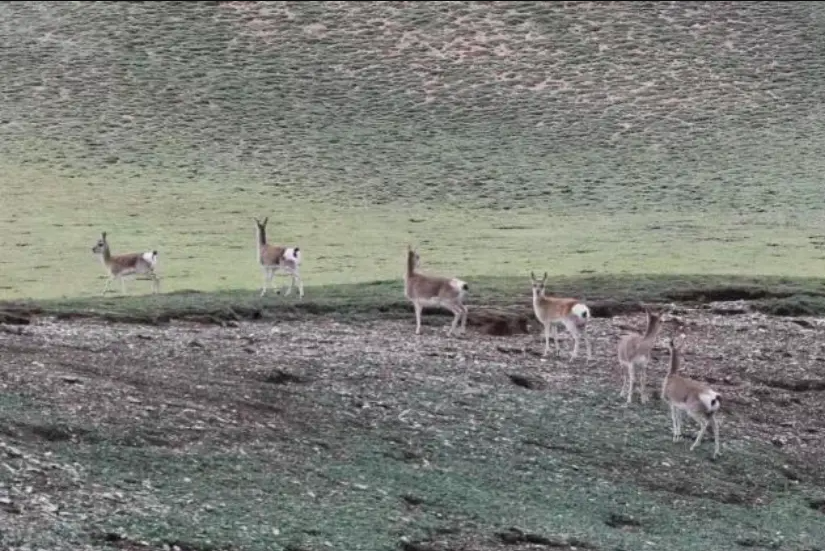 From early June, the grassland area begins to have power outages, and the world becomes even quieter. After 9 p.m., it is dark. Only a pair of oil lamps in the room burn brightly. The power goes out, and it rains. The weather is freezing. People can't do anything, and life becomes difficult.
I was a little anxious on the first night of power outage. On the second and third days, I tried to harden myself: in the grassland, before the electricity arrived, the herders also lived such a life, working at sunrise and resting at sunset. Birds also fly during the day and perch at night. Anxiety was much less.
But on 14 June, I couldn't help but drive to Yushu City first. When I got downtown, I subconsciously looked for McDonald's but only found Dirks Dicos, so I went in to eat. It's not gluttonous, but the well-known food in these cities can make people feel familiar with life.
Death on the grassland is equal.
Before I came to Jiatang grassland to count birds, I read the news about a raptor dying under a telegraph pole. But it's hard for me to accept seeing these raptors die. On the first day of work, I saw a grassland body near a telephone pole. It lay on the ground; its wings were open, its tail was missing, some burn marks, and its claws were gone. Its body was stiff, a little rotten, and its wings couldn't be closed. Maybe it has been dead for a month or two. The wind on the grassland has been blowing the feathers on its wings.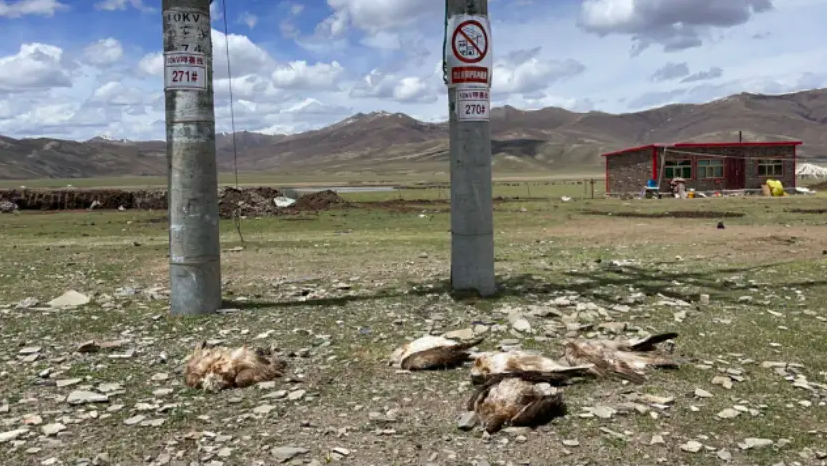 On 11 June, I met the biggest raptor I had ever seen. It looked like a white-tailed sea eagle; some said it was a golden eagle. I'm still determining. If its wings are fully spread, it will be two or three meters wide, much longer than my height.
They are at the top of the food chain on the grassland, and the plateau rabbit is their prey. They are hunters who act independently. They often hover in the sky, using strong winds and air currents to save energy. Once they find their prey, they will dive down very powerfully.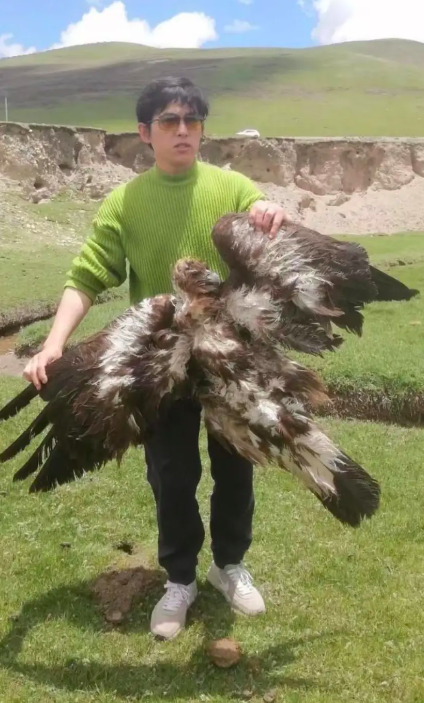 Raptors like to be high up, and the electricity poles on the grassland are the place for them to rest. But I can't help worrying about their safety. The wingspan of the raptor is vast, and it is easy to cover the positive line and negative electric wires simultaneously, causing electric shock. Over the years, the State Grid has taken several measures to prevent raptors from being electrocuted on the poles, including constructing an artificial bird's nest and installing bird racks.
But in just one month of counting birds, I can still see charred raptor carcasses near the electric pole from time to time, including grassland eagles and white-tailed sea eagles, falcons, and bald eagles.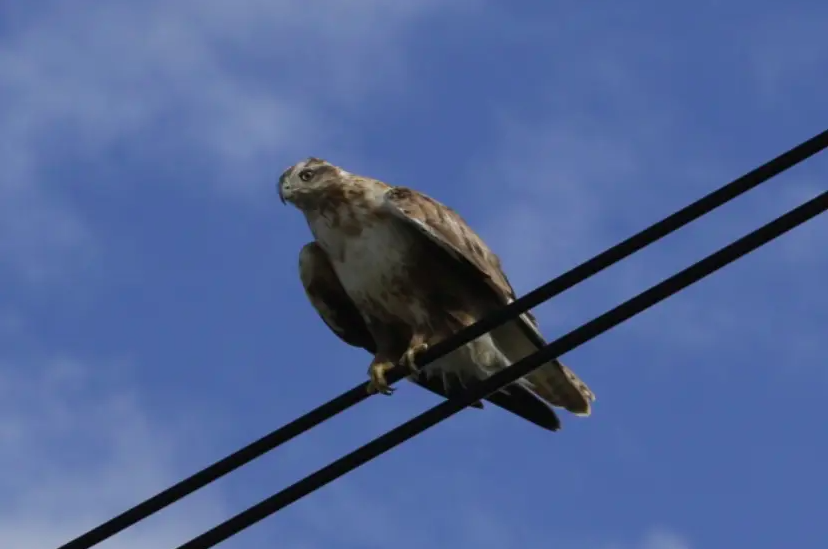 In their day, they were the rulers of the grassland, but they were electrocuted in such an unbearable way and lost their dignity. This kind of abrupt death is difficult to accept.
All animals will eventually die somehow, but what puzzles me is that the concept of "nationally protected animals" has not made the birds of prey more valued. Must it always be a conflict between the convenience of electricity in grassland life and the death of raptors?
Jiatang resumed its power supply for half a day. On the same day, I returned to the Jiatang grassland from Yushu City and found a dead raptor under an electric pole. Its body was still very soft and plump; it must have just died. It's too unlucky.
With all kinds of doubts, I put the bodies of the raptors I picked up on a piece of grass, a total of 53. They lay still on the ground and flew no more.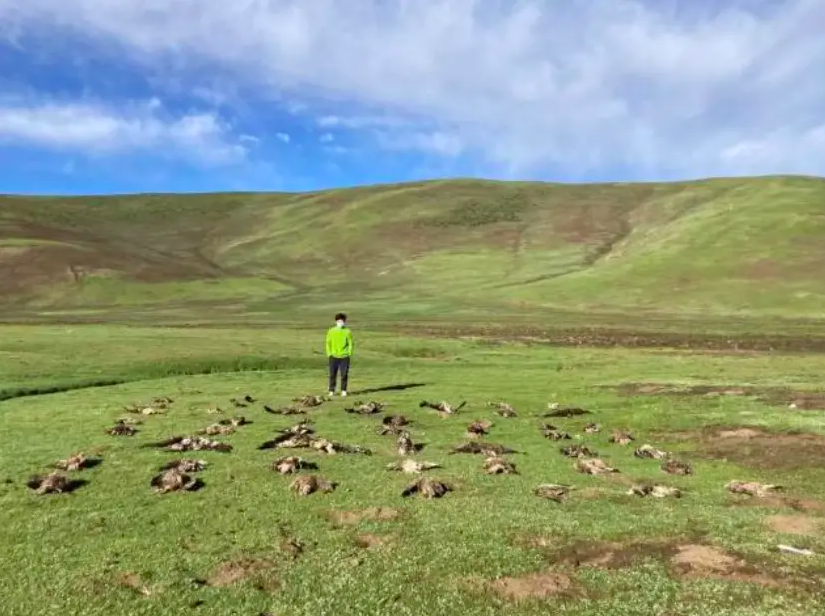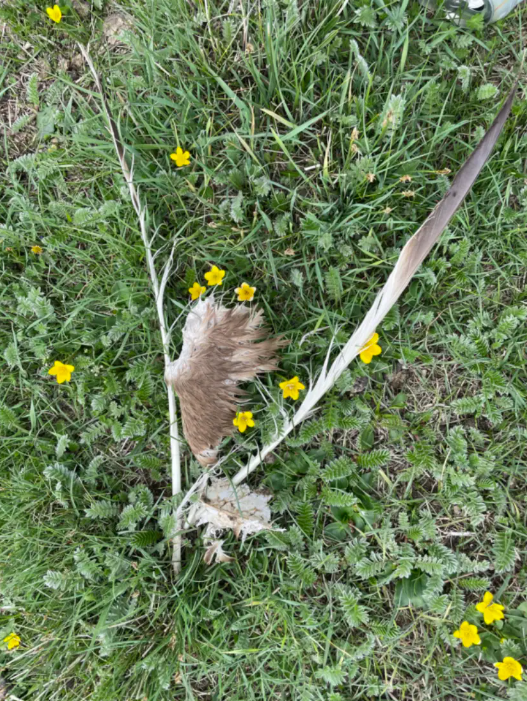 Worked on the article: