Poverty alleviation in Yunnan
Welcome and best wishes for a healthy, happy and prosperous Year of the Ox. We hear much about poverty alleviation in China and how successful it has been. Here are three stories of courageous village leaders, backed by the public and private sectors that show how poverty alleviation happens in practice.
How can villagers who live deep in the mountains change their destiny trapped in the mountains? How can they find a way out for the village?
Xu Kunbin
Don't worry, this ham has been cured for three years and can be eaten raw.
The winter season is the best time for the villagers of Nuodeng to cure ham. Xu Kunbin has excitedly introduced the process of curing ham to group after group of guests who came here. Finally, he conducted a "leg-opening ceremony" among the open mountains. He carefully cut out thin slices of ham with a knife and handed it to outsiders to try.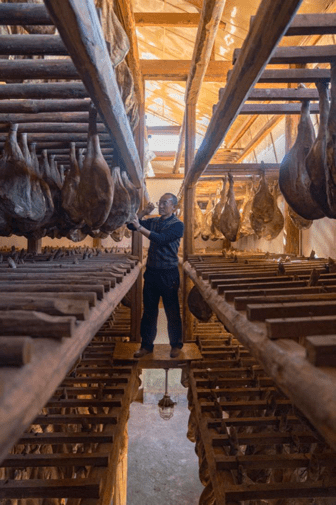 Xu Kunbin spends a large part of his daily time on the management of drying ham
He had waited for a full seven years for such a lively scene.
Xu Kunbin is over fifty, has served as a soldier, drove a train, and worked in a company. Now, in this thousand-year-old Bai village three hours' drive from Dali, he is not only an old villager, but also a new farmer. Like the ancient villages hidden in the mountains, their agricultural products have been hidden in the mountains for a long time. For countless sleepless nights, Xu Kunbin has been thinking: What is the way out for specialty products? Where is my village's way out?
There are numerous peaks, and there is almost no flat land in the village, all scattered among the mountains. This is quite common in Yunnan. In Xu Kunbin's early memory, the villagers had always relied on "people on horseback" to transport brine and boil salt.
Six years ago, when he first went to Shanghai to run the market, the high-speed rail was blocked, and it took him seven hours to get to Kunming. This kind of terrain also restricts the development of the ham industry.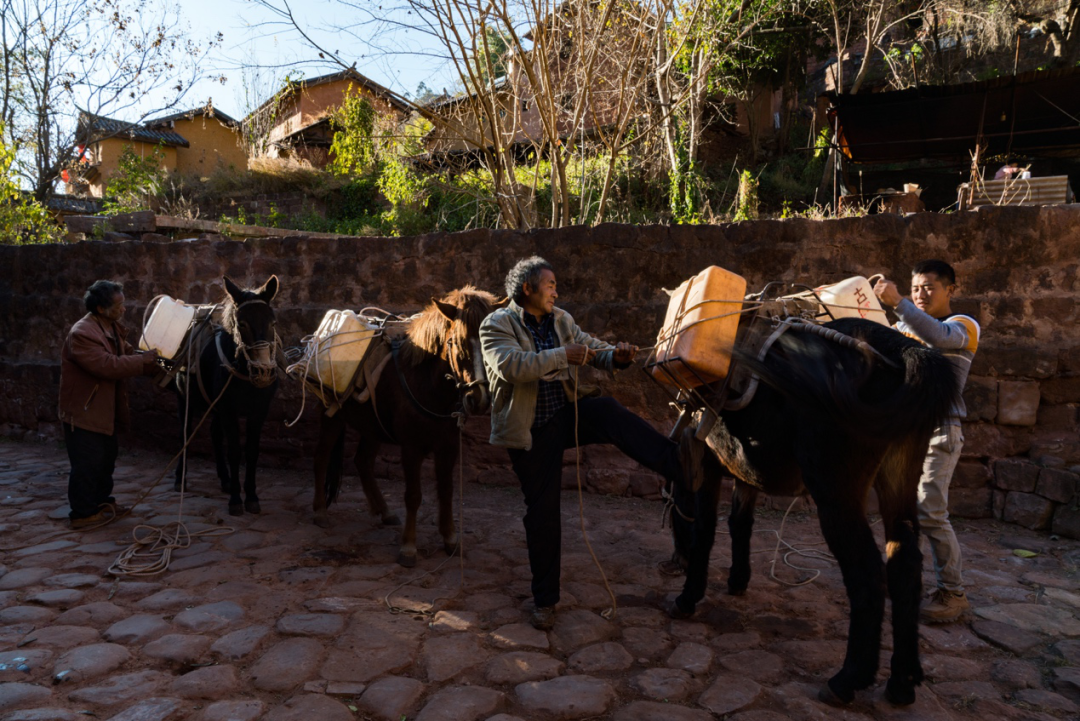 The ancient village of Nuodeng, which is deep in the mountains, has been carrying brine and boiled salt due to inconvenient transportation in the early years.
Xu Kunbin made a risky decision gave up his job as a train driver in the Kunming Railway Bureau and returned to his hometown of Nuodeng Village to open a ham processing factory in the mountains. At that time, the craze for local foods made the distinctive Nuodeng ham famous. At the same time, the questions that lingered in their hearts were: How can villagers who live deep in the mountains change their destiny? How can they find a way out?
This is a common problem in the mountainous areas of Yunnan: technology and information from the outside cannot enter, and agricultural products in the mountains cannot be sold. To sell Nuodeng ham, Xu Kunbin travelled frequently between Shanghai and Dali, trying to find a market.
Xu Kunbin is fortunate that he has served as a soldier and has strong willpower, "otherwise I would have gone down." With painstaking management, he spared no effort to convert all the idle flue-curing rooms in local villagers' homes into ham fermentation rooms to increase the villagers' income. But this is only a drop in the bucket, and long-term common prosperity is his goal.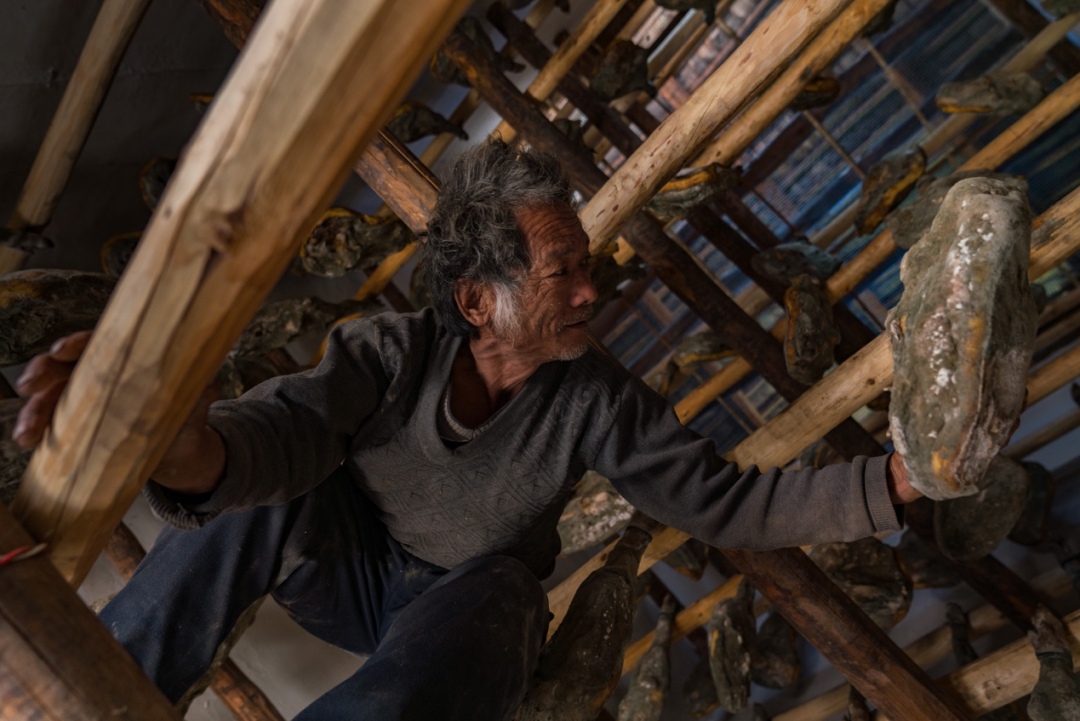 Xu Kunbin changed the idle flue-curing room in the home of the local villagers into a ham fermentation room
Although the most difficult period has passed, Xu Kunbin's was always been troubled by the capacity bottleneck and 'single product' problem behind Nuodeng Ham's rise to fame. "A pig has only two hind legs."Ji Tao is a member of the Standing Committee of Yunlong County Committee of Dali Prefecture, Yunnan Province, and deputy county magistrate. He was impressed by the hard work of Xu Kunbin, a new farmer. He introduced funds and equipment from many enterprises to promote the upgrading of the local specialty ham industry.
In future, every part of the pig can be used, and the value of each Nuodeng ham can be maximized!
Xu Kunbin's next plan is to open an online shop.
I am old and don't understand, but I still have to learn.
Fortunately, he is not alone. A major company helping with poverty alleviation has invested resources and teachers to help them learn e-commerce operations. Thinking of this, Xu Kunbin is full of energy, and feels that life is exciting again.
Li Nenlong
Another man from western Yunnan also wanted to lead the villagers to get rich. Li Nenglong, a village official in Xiangtang Village, Dehong, Yunnan, is unable to walk normally on his right leg due to polio. There are many poor households and disabled groups in Xiangtang Village. There are 97 disabled people here, making it one of the 18 key poverty-stricken villages in Dehong Mang City. Li Nenglong was unwilling to be taken care of by others. He vowed not only to be a strong man in life, but also to make the lives of people around him better.
When many disabled people were living at home, Li Nenglong, who is on crutches, wanted to break out. He set his sights on passion fruit planting. Compared with pig farming, passion fruit is planted and cropped in the same year. Coupled with the spring-like climate in Dehong, Yunnan, the fruit season lasts more than 10 months a year. It is an ideal poverty alleviation agricultural product with small investment and quick results. Driven by Li Nenglong, the passion fruit planting area in Xiangtang Village quickly expanded.
However, the harvest was not abundant. When the harvest season came, the villagers stood on the ground and waited for buyers. Sometimes because the price was too low or no one purchased, the fruit eventually rotted on the branches.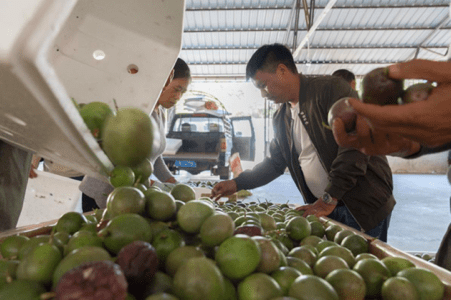 Li Nenglong is checking the quality of passion fruit
However, having seen the success of e-commerce, Li Nenglong thought that the passion fruit in the village could also "fly" out of the mountain through an e-commerce platform. In March 2020, the village established a professional cooperative. The first batch of 60 acres of passion fruit planting with integrated water and fertilizer irrigation facilities was built.
Li Nenglong led the villagers to open an online shop, started a live broadcast, and sold passion fruit online. On one day, they sold 60 tons of melons and 10,000 bags of passion fruit and gained nearly 30,000 fans.
It is in a leader like Li Nenglong, that we see reluctance to admit defeat and love of learning. That is why we are so trusting in introducing funds and resources here.

the funding organisation for poverty alleviation
In September last year, Li Nenglong was awarded the "Good Village Official for Poverty Alleviation" in Yunnan Province. But when Li Nenglong came down the slope of the passion fruit orchard, he told the visitor that the task on his shoulders was not over:
I still have more to do and energy to play with.
The sky a the back of the mountain seemed to be brighter.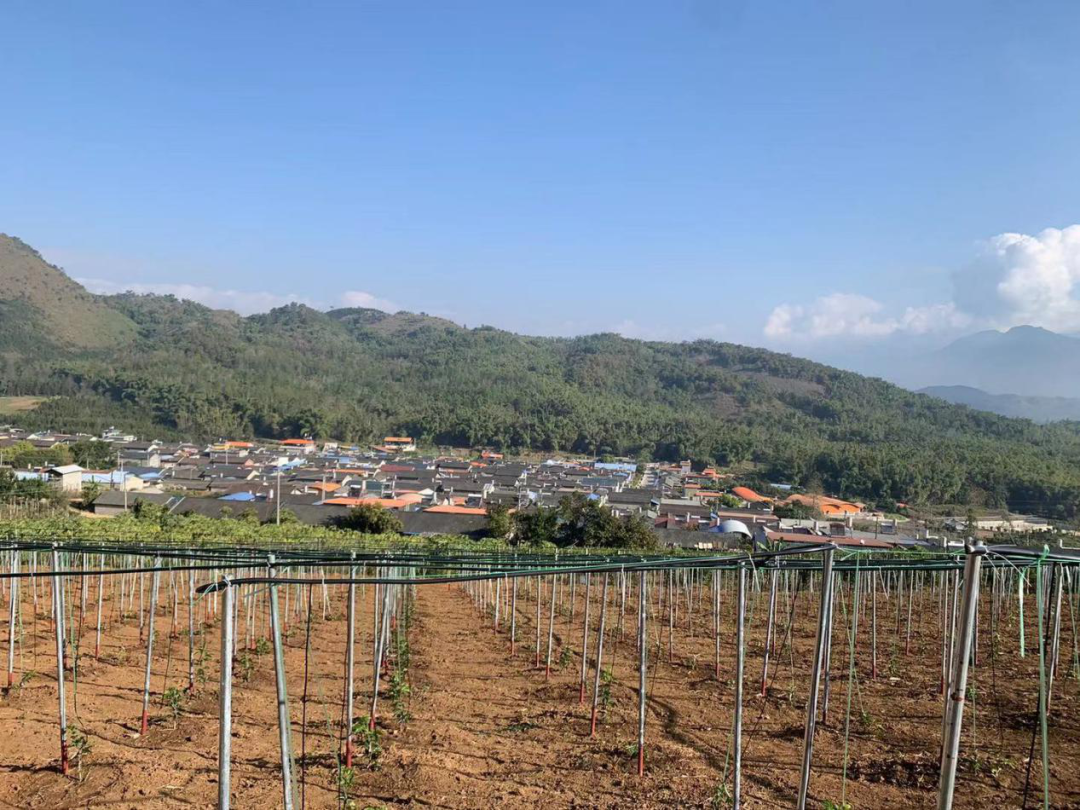 Zuo Xuefeng
In February 2019, Zuo Xuefeng, who was depressed, met a "noble man", Li Jinxue, who came to Laowo Town to reduce poverty alleviation and give assistance. Dr. Li pointed out that Laowo Village is suitable for growing citrus. It needs high-tech planting, excavators, film, and drip irrigation equipment, so that "the yield of citrus per acre can be acceptable in three years".
Are you crazy? Don't plant a citrus like that! Just take a hoe, put a seedling, and pour two buckets of water? Why is it so complicated?
The local villagers took a wait-and-see attitude toward the newly introduced technology.
However, Zuo Xuefeng accepted the suggestion and put together 400,000 yuan to invest in the construction of an orangery. Zuo Xuefeng's dedication has brought rewards. After seeing his fertile orange saplings growing vigorously and well, the villagers' enthusiasm was mobilized, the project went smoothly, and people's worries were dispelled.
Seeing that there was a courageous and willing leader like Zuo Xuefeng in Laowo Village, a company injected 2.25 million yuan in Laowo Village and introduced more sophisticated agricultural equipment.
On the day when he learned the news, Zuo Xuefeng was so happy that he couldn't sleep. Now that he tasted the sweetness of smart agriculture, Zuo Xuefeng realized that the development of the countryside still depends on technology.
Seeing the fruit on the branch, Zuo Xuefeng felt that everything was worth it.
Zuo Xuefeng is also full of enthusiasm now, busy learning new technologies and teaching villagers to use drones for irrigation. Whenever others joked to persuade him to go back and "become a big boss", he grinned and replied:
What's the point of that? Being the village party secretary can do great things and help more people!
Zuo Xuefeng, secretary of the Party branch of Laowo Village, instructs villagers to use drones.
Source: infzm.com.
Worked on the article: