Henry Kissinger at 100
This week we look at differing views of Henry Kissinger, one of the most influential (and controversial) centenarians. People feel very differently about this remarkable man, depending on their politics. Here we quote excerpts from several leading journals to give a broad perspective on a remarkable man. Revered by China, we first cite a recent article in the Chinese journal I-Feng.
In China, Kissinger can be said to be known as an "old friend".
Fifty years ago, he was entrusted by Nixon, the then President of the United States, to become the first person to knock on the door of China.
Based on trade, security and geopolitical considerations, Kissinger helped to establish a mutually beneficial Sino-US relationship. His efforts also enabled China and the United States to reach the Shanghai Communique in 1972, which laid the foundation for the future establishment of diplomatic relations and paved the way for President Nixon's historic visit to China.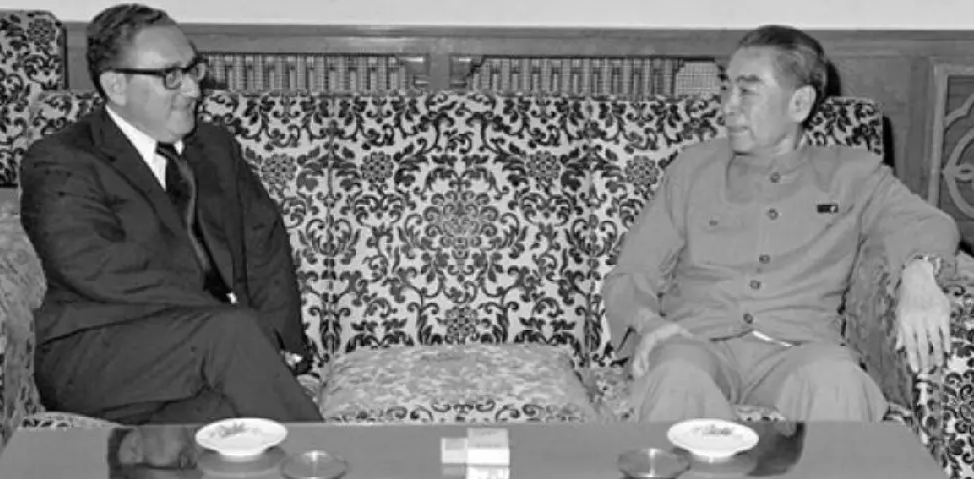 Kissinger has also influenced several generations of American diplomats. On May 27, on his 100th birthday, Burns, the U.S. Ambassador to China, tweeted in both Chinese and English:
Members of the U.S. Mission in China paid tribute to Secretary of State Henry Kissinger on his 100th birthday. We thank him for playing a key role in reopening U.S.-China relations half a century ago and his historic contribution to U.S. diplomacy.
In early 1969, the United States held four-party talks in Paris with the Nguyễn Văn Thiệu regime in South Vietnam, North Vietnam and the National Liberation Front of South Vietnam to find a way to solve the war.
The ceasefire negotiations allowed Kissinger and North Vietnamese leader Lê Đức Thọ to win the Nobel Peace Prize that year. However, many people opposed Kissinger's award at that time because he was considered involved in some highly controversial events in U.S. foreign policy. Two members of the Nobel Committee even protested by resigning, and the New York Times even called the award the "Nobel War Prize"."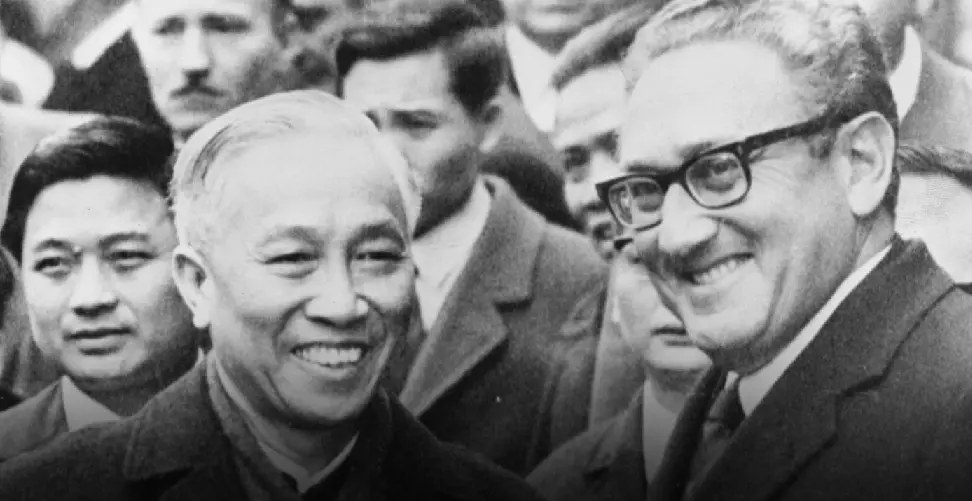 In 1973, Lê Đức Thọ, then a Political Bureau of North Vietnam member, and Kissinger jointly won the Nobel
But other writers have different views of Kissinger. Consider this quote from Jacobin, a socialist journal.
"Henry Kissinger Is a Disgusting War Criminal. And the Rot Goes Deeper Than Him".
It's Henry Kissinger's 100th birthday today. The fact that this monster is celebrated instead of in jail tells you that he's part of a much bigger problem — and that problem is America's global empire. The late Anthony Bourdain wrote  in 2001 that "once you've been to Cambodia, you'll never stop wanting to beat Henry Kissinger to death with your bare hands.
Few care to mention his various crimes. As Richard Nixon's national security advisor — and then secretary of state, a role he took on without giving up his original job — Kissinger oversaw a bombing campaign that killed 150,000 civilians in Cambodia. And among many other atrocities he abetted, he helped overthrow Salvador Allende, the democratically elected socialist president of Chile. Kissinger notoriously said that he didn't see "why we need to stand by and watch a country go communist due to the irresponsibility of its people."
Kissinger has never deigned to conceal his complicity in clear US and international law violations that killed many innocent people. The fact that he's reached the age of one hundred as a free man isn't an oversight; it's a symptom of a much deeper pathology.
A willingness to bend the global rules — order an assassination here, massacre some villagers there, depose an elected leftist or two in countries that, come on, don't matter anyway — was integral to how the United States managed its spheres of influence around the world long before Henry Kissinger came on the scene."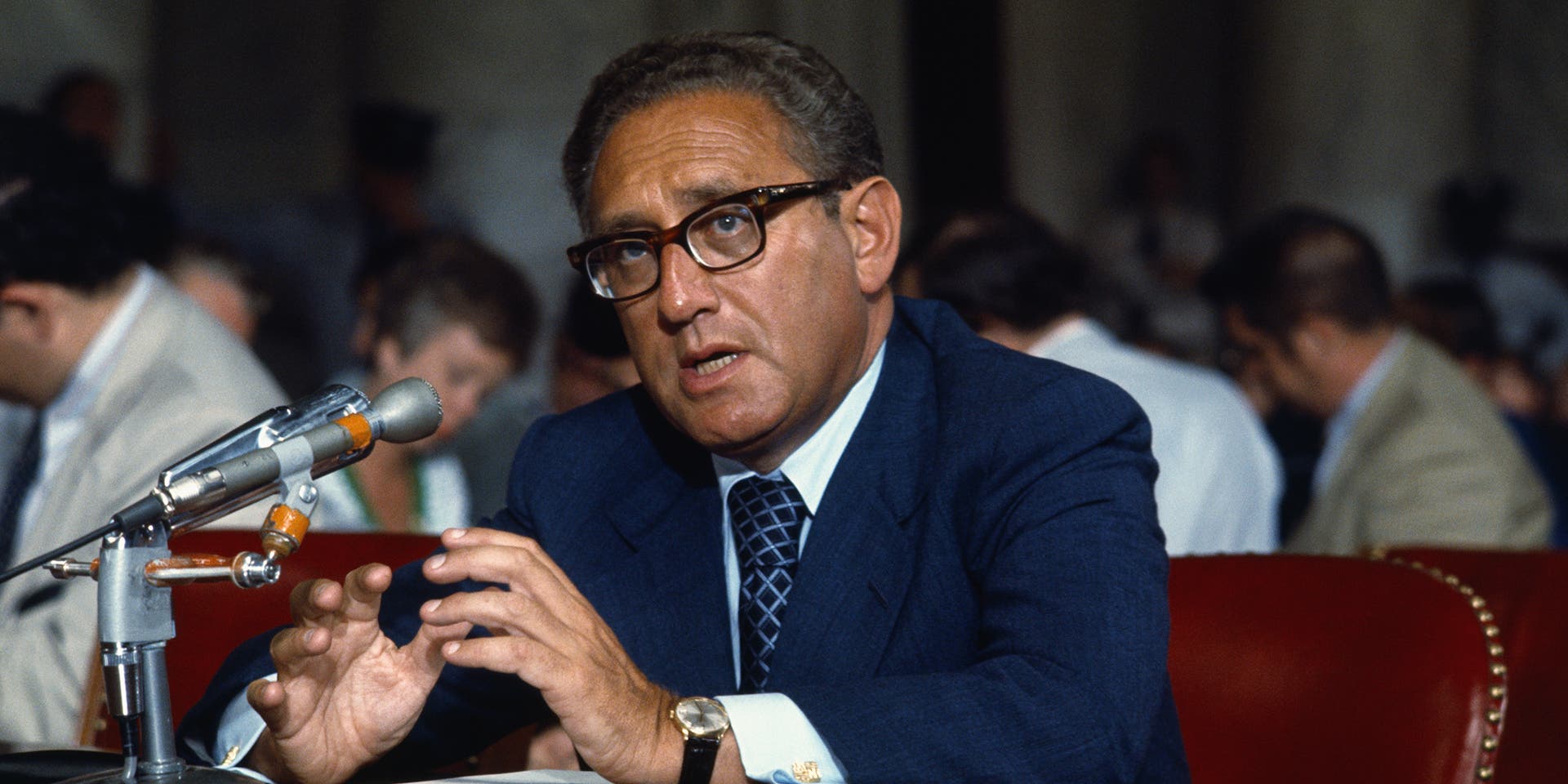 The Guardian in the UK expresses similar views.
"Henry Kissinger turns 100 this week. He should be ashamed to be seen in public".
"Henry Kissinger turns 100 on Saturday, but his legacy has never been in worse shape. Though many commentators now speak of a "tortured and deadly legacy", for decades, Kissinger was lauded by all quarters of the political and media establishment.

His top-secret work in the 1970s has aged just as poorly. Within a few short years, he masterminded illegal bombings in Laos and Cambodia and enabled genocide in East Timor and East Pakistan. Much of the world reviles Kissinger. The former Secretary of State even avoids visiting several countries out of fear that he might be apprehended and charged with war crimes. 2002, for example, a Chilean court demanded he answer questions about his role in that country's 1973 coup d'état. In 2001, a French judge sent police officers to Kissinger's Paris hotel room to serve him a formal request for questioning about the same coup, during which several French citizens disappeared.

But in the United States, Kissinger is untouchable. One of the 20th century's most prolific butchers is beloved by the rich and powerful, regardless of their partisan affiliation. Kissinger's bipartisan appeal is straightforward: he was a top strategist of America's empire of capital at a critical moment in that empire's development.
A more balanced view from the UK's The Times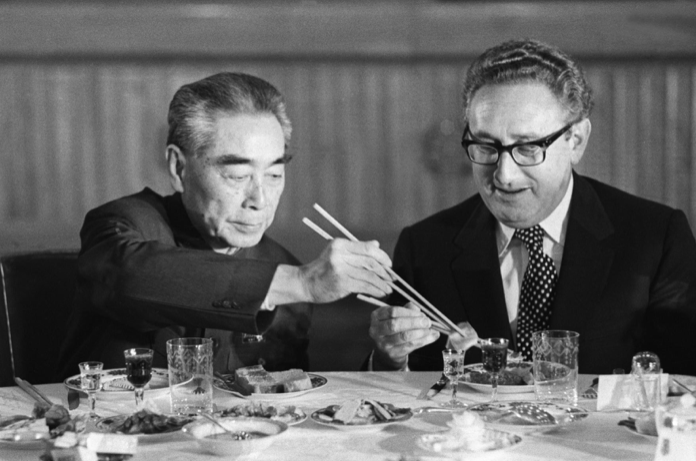 A Harvard professor with a distinctly uncool interest in 19th-century European diplomacy, he (Kissinger) shot to fame in 1957 with a bestselling book that argued for the possibility of "limited" nuclear war. He was a rather staid Rockefeller Republican in the 1960s, rescued from academia when Richard Nixon unexpectedly hired him as his national security adviser.

Their unlikely partnership produced the opening to China, a slowing of the arms race with the Soviet Union, and an end to the US involvement in Vietnam — not to mention the start of the Middle East peace process (a phrase he coined). Writing his biography, I am struck by how many Kissingerisms have become embedded in foreign policy language, from "back channel" to "shuttle diplomacy".

Kissinger replaced him as de facto commander-in-chief by 1974, as Nixon crashed and burnt. And even before Gerald Ford was installed in the White House, he made it clear he would defer to Kissinger on foreign policy issues.

The nadir was around 2001 when Christopher Hitchens's shoddily researched polemic against Kissinger — calling for his trial as a war criminal — was all the rage. George W Bush's attempt to get Kissinger to chair the 9/11 Commission of Inquiry foundered over his refusal to disclose the clients of his consulting business.

Yet events over the past decade — notably the US failures in Iraq and Afghanistan, the emergence of a new cold war, this time with China, and the outbreak of a hot war in Ukraine — have brought us back, with a series of sobering jolts, to Kissinger's world.

Kissinger has been criticised for beginning the process that brought China out of the isolation of the Mao era and encouraging the growth of trade and investment between the United States and China — the rise of what I called "Chimerica" back in 2007. Yet he never claimed perpetual peace between Washington and Beijing.
We conclude with some disdain from Politico
"Henry Kissinger may be the most overrated public figure of our times".
Henry Kissinger may be the most overrated public figure of our times. He is overrated, first, by some foreign policy jocks, who wrongly credit him with being the mastermind behind Nixon's foreign policy achievements. Nixon drove his foreign policy and wanted to open relations with China and achieve détente with the Soviet Union. Nixon was the grand strategist, and Kissinger was the tactician. (Those achievements are counterbalanced by Nixon's needless prolongation of the Vietnam War.)

Kissinger is overrated, second, by Washington society and the punditocracy, which treat him as some incredible mind. Most of his ideas have been conventional. His ideas have never exerted significant influence in the academic world. In foreign policy, he often goes with the Republican flow, as when he counselled Bush to avoid withdrawals from Iraq, lest the public becomes addicted to them "like salted peanuts." Yet he appears on Charlie Rose to discuss the World Cup.

Kissinger is overrated, finally, by his enemies on the hard left, who use shrill and absurdly inapt labels like "war criminal" because they don't like his foreign policy decisions. Nixon and Kissinger deserve severe condemnation for many elements of their foreign policy, but to suggest that Kissinger is the equivalent of Hitler or Milosevic is to engage in juvenile sloganeering. Kissinger's worst crime was testifying falsely to the Senate Foreign Relations Committee about his involvement in Watergate—specifically, his authorisation of illegal wiretaps of the phones of journalists and government officials. Watergate was the scandal of the century, and Kissinger's key role in it should be what history will remember him for most.
Our view
For someone to be 'over-rated' and receive so many conflicting comments worldwide is remarkable.
Yet how much influence or power can one man ever truly deploy? I remember a vast global bank CEO saying to me, "As CEO, I have no power whatever. You all think I do, but the reality is that I depend on everyone else."
Perhaps Henry Kissinger, if asked, would say the same.
Worked on the article: