A nautical conversation
In a popular post on 22nd April, we wrote about our voyage from Weymouth to Beaulieu on the south coast of England. Our classic 1960's yacht, 'Kitra', then needed revarnishing in Lymington. A few Saturdays ago, I undertook the trip back to Beaulieu with one of my other sons. The sailing was wonderful. So was the conversation.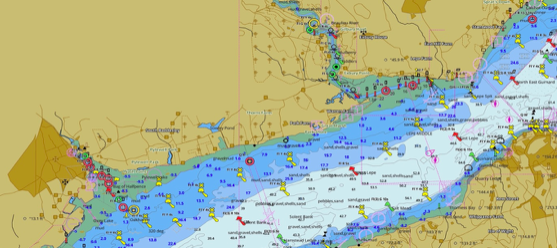 Despite the short distance, the sailing can be tricky as the chart shows. The tides are strong. There are many shallows. The water is crowded with all manner of craft, particularly in the run up to Cowes Week.
But today the weather was kind, the wind was exactly right, so we relaxed a bit – and talked a lot!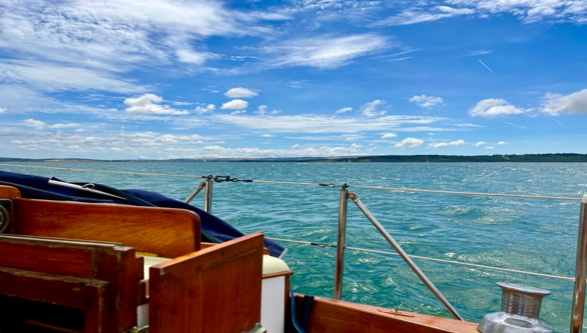 Dad
"I've just finished reading 'Bird Cage Walk' by Helen Dunmore. It's a dark novel, kind of sinister, about the lives of some people in Bristol during the early days of the French revolution. Apart from King Louis (Remember him? He was guillotined!) there's nothing about the endings of her characters. Their lives simply stop when the book ends.
There are no tidy conclusions, or even a vague 'and they all lived happily ever after.'"
Son
"Odd that. Must be frustrating."
Dad
"Well, yes, a bit. The main character is a real person apparently. The author discovered her from an inscription on a gravestone in Bristol that was decorated with a writer's pen. The inscription reads something like: "To the beloved memory of Julia Elizabeth Fawkes, wife of Augustus Gleeson, this stone was raised on 14th July 1793 in the presence of her many admirers." And then the stone says: "Her words remain our inheritance".
But they don't! Not one word of Julia's writing survives. All that effort, thought, praise and no doubt disapproval at times - all lost. I guess it shouldn't be, but it's humbling how few people leave traces in history. By the way, this was Helen Dunmore's last book. She did not know it at the time, but she was to die of cancer a year after its publication in 2017. In 250 years' time, who will remember her writing?"
Son
"Wow. That's bizarre. I wonder if her life ended in the way the characters in that book did. Er - which side do I leave this buoy?"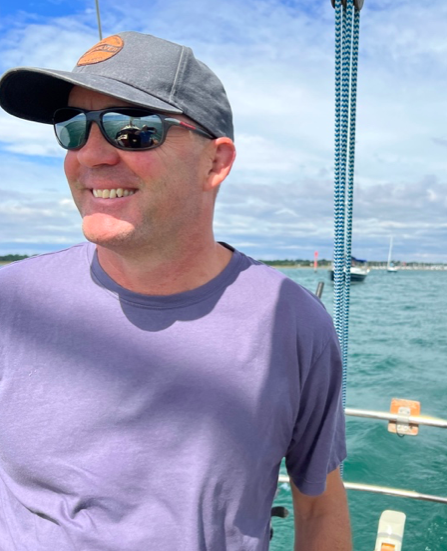 Dad
"Starboard, please.It reminds me of the family history I put together after Grandma died. Do you remember? The first entry is less than 300 years old but what a struggle it was to find out about the relatives. Even though I learned a lot, I couldn't capture their lives or how they felt and thought. The photographs are brilliant to see but do not say much about the person. There was a postcard my great-aunt Joyce sent to her sister, your great-grandmother, on her way to India after her marriage. It shows a street in Wetherby, Yorkshire, where they lived, in 1909, and on the card, Joyce wrote: 'I think it is Poole in the distance taking away someone else's cases.'
I always wondered who 'Poole' was and why did he take away cases? Even more mysterious, who was great aunt Joyce? I grew up with my Granny. She died before you were born. I knew her two sisters and thought them my only great aunts. I had never heard of a fourth sister, Joyce. And I have not discovered anything about her since.
Not just her life and thoughts, but Joyce herself has vanished into history".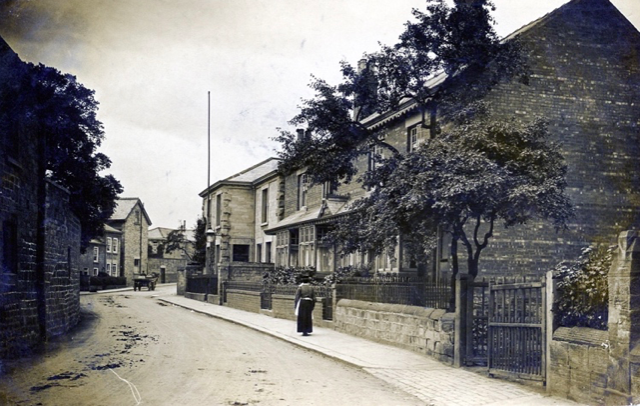 Son
"There's a good poem about that. I can't remember it all but it goes something like:
'Take a bucket and fill it with water,
Put your hand in it up to the wrist,
Pull it out and the hole that's remaining
Is a measure of how you'll be missed.
You can splash all you wish when you enter,
You may stir up the water galore,
But stop and you'll find that in no time
It looks quite the same as before".
Dad
"That sums it up rather well. Look, those must be the first races of Cowes week over there in the distance."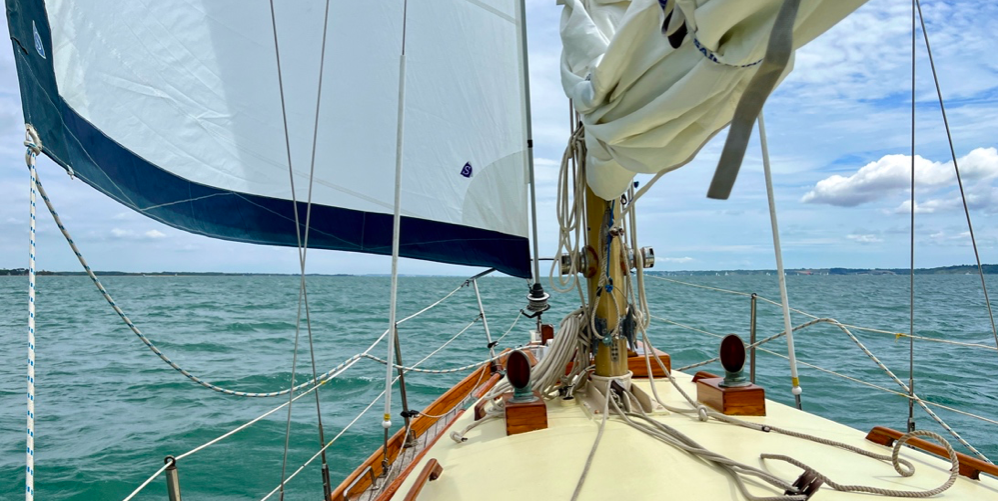 Son
"Yes. Great to see. We're going to have to sail through that lot to get to the Beaulieu River. Could be interesting. That poem was called the Indispensable Man, if I remember rightly, and it is basically saying we are all dispensable: there is no man (or woman!) who is indispensable. We are forgotten as soon as it is decent to do so – sometimes before. We are never heard of again, just like your great aunt Joyce."
Dad
"Not such a bad idea! I'll drink to that. These days with electronics and social media, most people want to be forgotten when they die! But if that is the case, what is the point of it all then? Why are people so driven to leave their mark on this earth? Why did Helen Dunmore put so much effort into capturing Julia's words for posterity if ultimately it is a fruitless task?"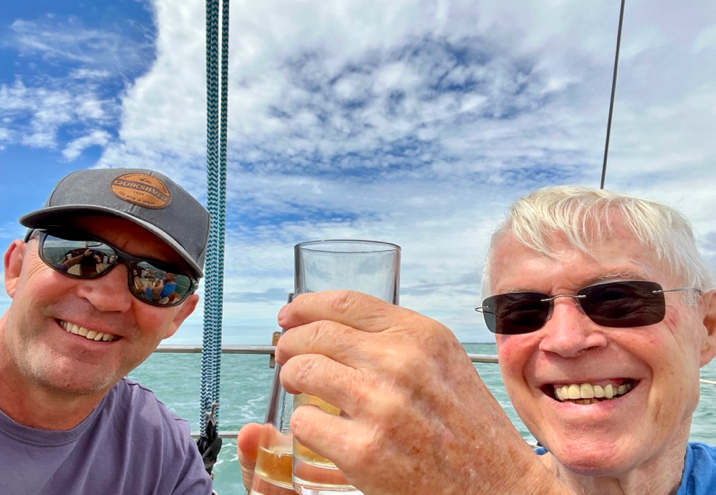 Son
"I guess each of the earth's seven billion humans has their own answer to that. Nobody knows what happens after death. We cannot prove or disprove the existence of a Creator. Where does Space end? What is Infinity? Do animals have souls? Who knows? But it does seem to be a truth that when people live with a purpose, they are happier and more fulfilled than if they are just living a life of pleasure."
Dad
"Look, there's Buckler's Hard. They built many famous warships here to fight Napoleon. When a British sailor got 'knocked on the head' (i.e., died!) they sewed him into a canvas bag with cannon balls inside. Then they dumped him over the side and sold off his belongings to other sailors. And that was the end of him. Gone."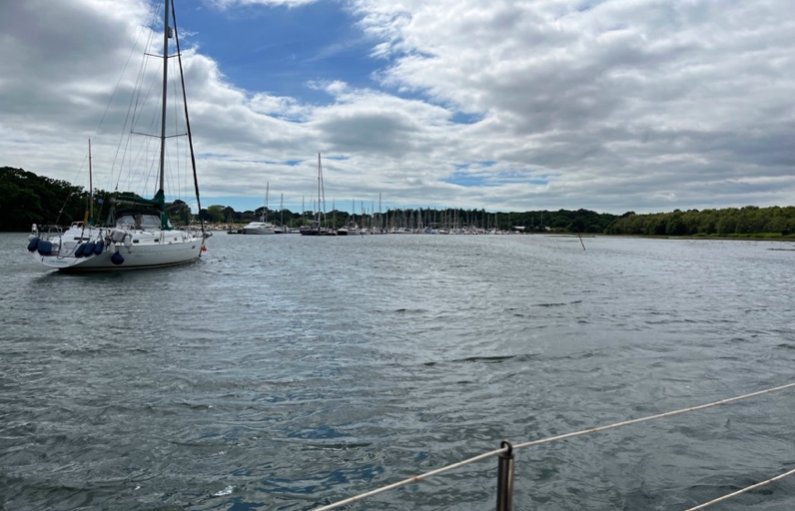 Son
"But that sailor lived his life and served a purpose, didn't he? Isn't that the point? Surely, we need to feel we have a purpose to fulfil ourselves. We needed to get Kitra safely back to Buckler's Hard. It has been a perfect day's sailing today, but would we have enjoyed it as much if we were just messing around in the Solent? Would we have even gone out today if we hadn't needed to get Kitra back onto her mooring?"
Dad
"Yes. You're right, son. I am sure Julia Fawkes had a purpose in her life. And she may well have been content when she died - even if we cannot read any of her words today. But isn't that the whole point…? We all must find our own purpose. Nobody is going to answer the big questions for any of us.
That is so liberating…"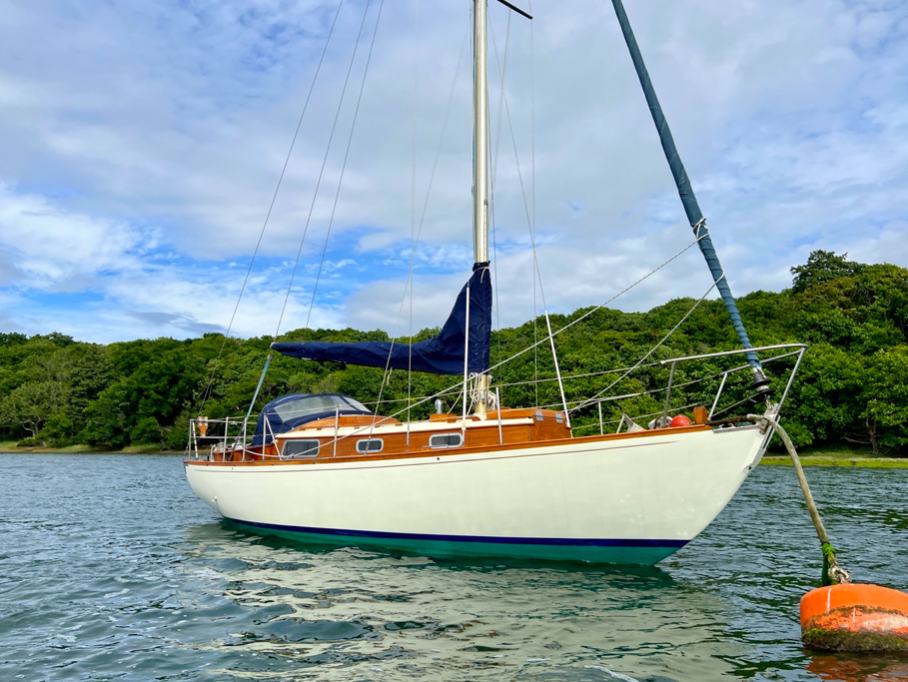 And so, with Kitra safely back on her mooring, we went home very pleased with ourselves!
(With great thanks to Will for his ideas and thoughts!)
Worked on the article: